With this datapane you can view vessel position data from your SeaSmart device.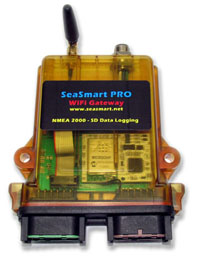 To get started - select your registered device from the PREF tab and then enter the search dates on the SEARCH tab – select MAP DATA
If you have no tracker today, we strongly recommend the SeaSmartPro tracker. The SeaSmartPro automatically sends positions to your HelmSmart site where you can search for vessel position and overlay sensor data on trails.
The SeaSmartProGPRS is however much more than a tracker. The standard functions include:
Links to your existing NMEA 2000 network
Sends positions to your yacht site
Uses you existing internet service
No need for additional data plan charges
Automatically creates logbooks and trip segments for your journeys
Monitors the battery voltage
Monitors the temperature onboard
Monitors fuel and tanks onboard
Monitors weather and wind
Tracks the yacht in case of theft
Built-in data logger to SD memory
Records everything when vessel is out of range
Up to a full year of storage
Automatically syncs to Boatlogger site when internet service is found
Cloud base storage and access from the HelmSmart data server
Add more vessel sensors
Install additional temperature sensors to monitor e.g. engine room temperature, sea temperature, outdoor temperature etc.
12 additional customized inputs (6 digital inputs, 2 tach, and 4 analog inputs)
Everything is naturally monitored from your yacht site and automatically included in your logbook or displayed on graphs or photo albums at your site.
Download the data sheet to learn more or order your SeaSmartPro directly here. Worldwide shipping is included in the 595 USD price.
If you already have a SeaSmart and want to connect it to HelmSmart, simply login with your username and password.